How does my brain get out of balance?

Chronic stress or "super" stress can cause your brain to go out of balance. When we have stress, our body increases our beta waves or "thinking" brain waves. These brain waves are important for helping us to determine the best course of action while we are dealing with a stressor. Whether it's doing a presentation, dealing with traffic or fleeing from a bear, our brain needs to be "sharp".

When we are producing more of the beta brain waves, we tend to produce less of the calming (alpha) brain waves or resting (theta) brain waves.

With chronic stress, our brain might go more into a beta mode where we have a racing mind or feel anxious and have difficulty getting to sleep, staying asleep or feel refreshed when we awaken. When our brain gets out of balance, it can feel impossible to get it back into balance.

When your brain waves have the proper balance, you will find it is easier to sleep deeply, feel calmer and to think on your feet. You will also find that you can get out of the "hyper" brain mode where you feel like you can't turn off your thoughts.

Resolving racing mind, ADD and sleep problems

The graph below illustrates Dr. Tarlow's brain out of balance vs in balance. On the left, Dr. Tarlow's Theta (light sleep) and Alpha (meditative or calm state) brain waves were very low. Her Beta brain waves indicate that she had a racing mind.

On the right, you can see after receiving the brain balancing therapy how her Theta and Alpha brain waves are now much higher. She has also conquered a life-long problem with insomnia.

​To resolve brain wave imbalance that can be causing everything from sleep problems to focus (ADD and ADHD) to feeling stressed, we use a variety of tools including brainwave entrainment combined with a guided visualization, biofeedback, neurofeedback, breathing exercises and lifestyle recommendations.
---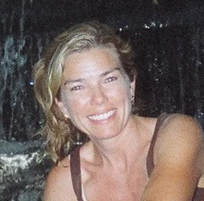 I first met Nancy as a chiropractor many years ago. My two daughters (young at the time) and I went to her for chiropractic care and she exceeded expectations by helping us to address and discuss a variety of health issues and resolutions. She always delivered quality care and valuable information with caring and understanding. It has been a wonderful gift to reconnect with Nancy upon her return to Asheville. She introduced me to brainwave balancing which has been very supportive of my anxiety issues resulting from a brain aneurysm over a year ago. As she did before, she has also offered many ideas and resources to support my ever-improving health. Nancy's commitment to health and sharing her expertise with others is strong and productive. I am grateful for her support and would recommend her to anyone considering the services she is offering. Michele B.